Mahamaya provides yak wool from traditionally sustainable pastoralism
by the Changpa nomads from the Changtang Valley, Ladakh.
Yak wool, along with cashmere wool, is one of the most valuable types of wool in the world. No wonder, because the wool of the yaks from the Himalayas has numerous special features and is extremely comfortable to wear. It is as delicate and soft as cashmere wool, keeps you warmer than sheep's wool, regulates moisture, is breathable and even allergy-friendly. The reason for all these properties is the extreme thickness and the multilayered slip of the wool fibers. Because the yak fur actually consists of two layers – the top fur and the undercoat. The cover skin is primarily used for the production of coarser woolen goods such as ropes, ropes and blankets. Our wool, in turn, comes from the fine undercoat. In contrast to the top hair, this is spinnable.
Why do we sell the yak wool of the Changpa nomads?
We are now trying to establish more partnerships for the distribution of yak and cashmere wool
in order to be able to actively improve the living conditions
of the Changpa nomads. The financing of the hostel for nomad children near Leh is particularly important to us.
Our artisan products made from yak wool
Together with spinning mills in Regensburg we create cushions and cuffs for sale here locally and also on request.
100% of the proceeds go to our Mahamaya Girls Hostel project.
We are pleased to introduce you to our small "library".
Some of these books can be borrowed from Mahamaya e.V. for a small fee.
Conditions: 50 cents per day, 12 euros per month. These fees are tax deductible as donations.
Konditionen: pro Tag 50 Cent, pro Monat 12 Euro.
Diese Gebühren sind als Spenden absetzbar.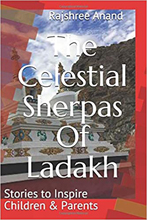 Stories about nomad
children in Changtang, Ladakh