"Why our school is so important in this region" …
"I believe true education will always hunger you
to learn new things, which can obviously,
promote our inner value ….. "
Sonam Dawa
Impressions from Schachukul
A film by Susanne Mic – nature educator
With the diversity of nature, the children in the Himalayas build a sustainable ecological connection to their home.
Ambassador of the nature children of the different countries
with Susanne Mic and Lama Konchok Gyaltsan, international ambassador, Ladakh, North India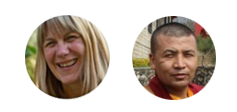 Get to know the ambassadors of nature children personally,
take part in one of their workshops and find out how the movement of the nature and
forest children is active in the different countries.
Susanne Mic, nature educator, works playfully with the children.
2020 – Construction of a "Green House" next to the school
Vision: Growing vegetables for self-sufficiency and as school lessons
Would you like to support us with your donation
and give us hope?