16.06.-18.06. 2023 | Songs of Milarepa with Guru Yoga Retreat
Weekend with Khenpo Konchok Choskyab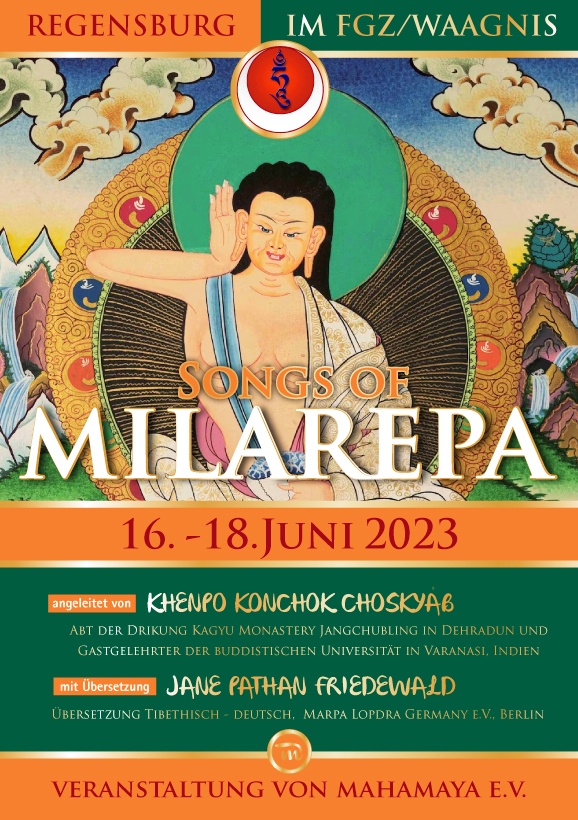 Milarepa is widely regarded as Tibet's greatest yogi, famous for his austere mountain retreats, beautiful songs of realization and devotion to his teacher Marpa. The tradition of Dohas, spontaneously from spiritual hymns that have arisen from realisation, have their origin in the old, Buddhist culture of India. Milarepa (1040-1123) was a brilliant composer from Dohas whose content is about the Centuries of inspiration for one's own spiritual journey.
His teaching songs, including German translations, are the subject of the teachings this weekend.
Practice:
Friday: 18.00 – 19.30, Milarepa's biography
Saturday: 9.30 – 11.30, 13.30 – 15.30, 16.00 – 17.30, Milarepa's teaching songs
Sunday: 9.30 -11.30, 12.00 – 14.00, Milarepa Guru Yoga with Tsog
We ask for early registration (limited number of participants: 16 participants) at Mahamaya e.V. at info@mahamaya-ev.de
or with Susanne Mic on 0178 – 188 44 36 or 09473 – 951 42 04
Location: FGZ-Waagnis, Grasgasse 6, 93047 Regensburg
Costs for the whole weekend: 145 euros incl. warm drinks and cake, 125 euros for club members
Please bring drinks, comfortable clothing and a seat cushion!
20.6. and 21.6.2023 – two evenings with Khenpo Konchok Choskyab
at the Tibetan Buddhist meditation group, Regensburg:
The Four Dharmas of Gampopa
10.02. 2023 | A Farewell dinner for Lama Stanzin Norboo Kopay
with Tibet Initiative, SPD Regensburg and Space Eye
At our farewell dinner for Lama Stanzin Norboo Kopay from Ladakh in the Indian restaurant, we welcomed our new members as well as interested guests such as Dr. Thomas Burger from the Regensburg SPD and Mr. Michael Buschheuer from Space Eye e.V. Many conversations developed after Lama Kopay's presentation about tree plantings in Ladakh.
21.01. 2023 | Lama Stanzin Norboo Kopay at Mahamaya e.V.

Mahamaya e.V. has invited the Lama Stanzin Norboo Kopay from Ladakh – our contact for our projects – to Germany for a month so that he can get to know Regensburg and our members. As a thank you, we were spoiled with a traditional dish from the Changthang Valley, Ladakh, by the hostess Susanne Mic. There were the "momos" and "butter tea". The llama also visits a forest kindergarten and gives lectures on the tree plantings in Ladakh.
December 10, 2022 | Lukretia market in Regensburg
Day in the action hut
together with the Tibet Initiative Regensburg


July 02-03, 2022 | Regensburg
Ostengassenfest- street festival of social initiatives
Mahamaya e.V. and Tibet Initiative


April 22-24, 2022 | Regensburg
Lu Jong - Tibetan healing yoga
Lecture and workshop with Marion Köbel, Baden-Baden

March 10, 2022 | Longing Tibet - a life in exile
An evening for Tibet with film, reading and meditation
Mahamaya e.V. presents the GoGreen GoOrganic project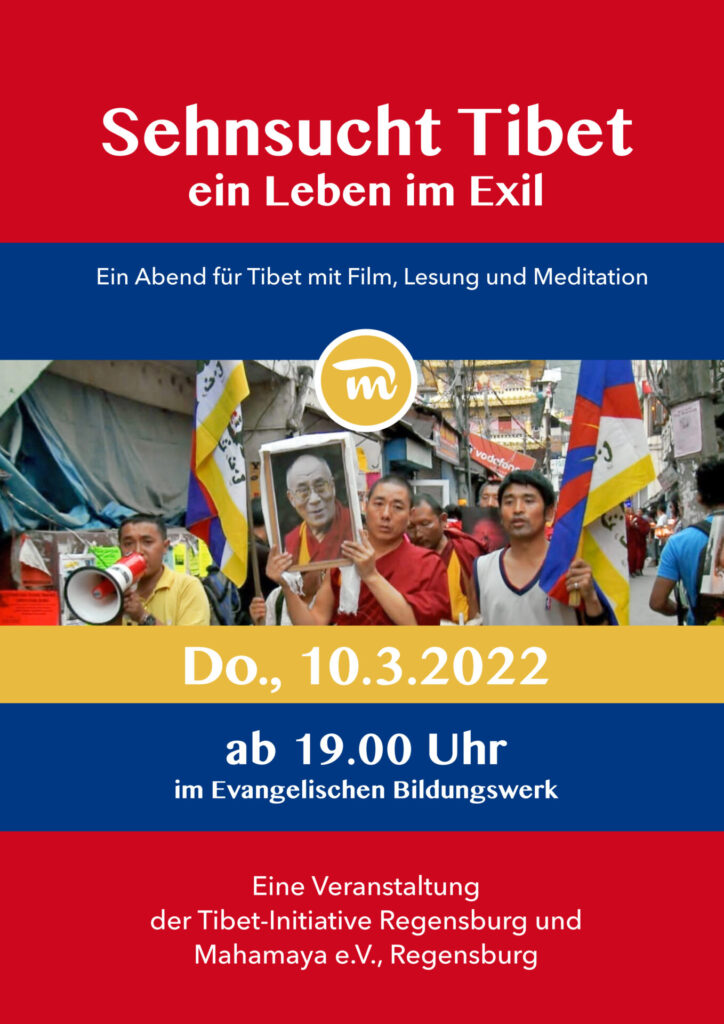 May 7th - 9th, 2021 | Munich
mahamaya e.V. and Himalaya Haus e.V.
at the online congress of the Institute for Holistic Medicine e.V.
ONLINE Lecture and Practical Guide: The Jewels of the Himalayas
In his lecture, Khenpo Konchok Samten takes us to his country, which is home to the highest settlement areas on earth in the Himalayas, and introduces the Tserkarmo monastery, where monks and lay practitioners have been meditating and practicing tantric meditation practices for hundreds of years.
Khenpo Samten will introduce us to the practice of Chenrezig in his workshop.
August 2020 | our website is ready!
June 2020 | Mahamaya's new premises in the heart of the old town of Regensburg
We have now found premises for future Mahamaya events.
We look forward to welcoming you to this atmospheric space on the corner of Steckgasse and Obertmünsterstrasse.
Events see news and/or on our facebook site.
From April 2020 | LIVE STREAMS on Facebook "Green Tara Sand Mandala - Scatter"
From 28.03. – 04.04.2020 2 sessions were held daily in cooperation.
LIVE FROM ST. WENDEL
When the monks were stranded in Saarland (Germany) during the corona crisis, they scattered the PROTECTIVE MANDALA OF THE GREEN TARA live from the Vietnamese temple in St. Wendel (Saarland), accompanied by meditations and prayers. This green tare practice is taught by H.H. Dalai Lama, H.H. Recommended by Kyabgön Chetsang Rinpoche and high dignitaries of Tibetan Buddhism as a particularly effective and important healing practice at this difficult time in the world.
Om Tare Tuttare Ture Soha
May all beings be free from suffering!
May this bring protection, healing, blessings and joy to the world!
April 2020 | Europatournee "Aus dem Herzen des Himalayas"
Monks and artists gave insight into Buddhist ceremonies and the culture of Ladakh in different countries and cities.
Ein paar Impressionen der Veranstaltung, welche wegen der Coronakrise in Deutschland gestoppt werden musste, finden Sie hier.
Mit den LIVE-STREAMS auf facebook von Himalaya Haus e.V. und Mahamaya e.V. ermöglichten wir dennoch "der Welt" zu zuschauen.
Would you also like to support us with your donation
and give us hope?